Who and What Should PreCon Include?
"We do not win on the project – we win in PreConstruction." – Jason Schroeder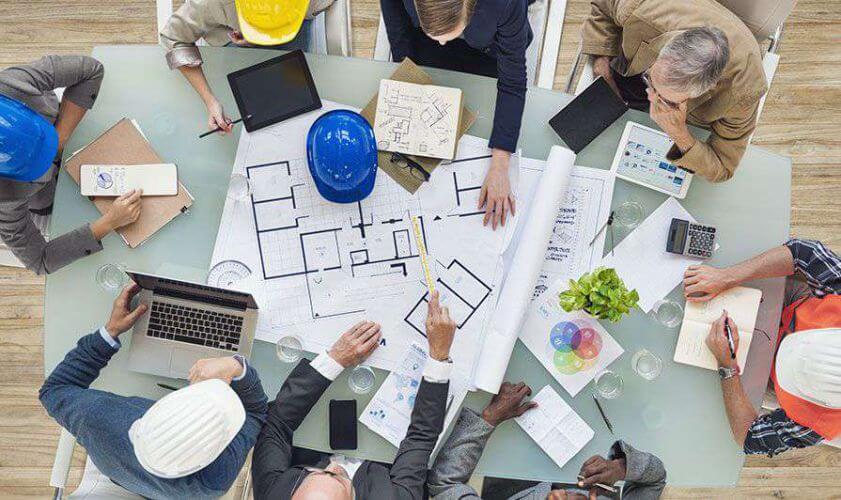 On a sliding scale, the preconstruction period can be short and limited or long and robust. Over 15 years ago Greg Howell and Will Lichtig with a number of other great Lean Construction thinkers leapfrogged the current state and imagined what a more ideal future state might look like. The result was Integrated Project Delivery and Lichtig's first draft of the Integrated Form of Agreement (IFOA).
Here's the "Who"
This leap, which undoubtedly a few others had begun to take on their own, imagined a project beginning that was frontloaded with all the participants: the owner and end-user to inform the needs and Conditions of Satisfaction, the designers to bring creative vision to the planning, the principal builder's leadership, and the trades who bring real world, up-to-the-minute information to assist in devising a constructible high-value design at the best "target cost". Sometimes equipment vendors (especially in EPC, energy plants, data centers and hospitals) and other Subject Matter Experts will join the PreCon team from time to time.
Simply stated: that is the model for who should be included in preconstruction at the very beginning of the project. This approach to front loading is entirely doable with the IPD contract, Progressive Design Build contract, and even a more typical design build contract.
"Every project postmortem starts with, I wish we had spent more time on the front end learning to work better together." – Rex Miller

Here's the "What
This entire project team needs a clear, shared vision and understanding of the Owner's and End Users' needs and Conditions of Satisfaction. There must a common understanding of the Vision – the North Star – and of what success ultimately looks like.
"A clear vision of the project, be that a story board with visualizations from the architects or a BIM model or other design information that allow a PreCon team to get inside the head of the architect / client. And a kickoff meeting with self-same individuals and PreCon team, so you can ask the stupid questions!" – Chris Allen, Interim Director, Nelson Mandela University
Our Construction Accelerator® – ReAlignment Group of California team has pulled input from 75 design and construction experts literally around the world. Some are quoted below. From this, our 40+ years experience, and participant input from a 4-Hour AGC of America Workshop and 90 Minute Webinar with Lean Construction Institute, we have compiled the following Checklist.
Checklist
Project Execution Strategy – Comprehensive
Investigation

Site Analysis
Analysis – Existing
Existing Utilities & Removal

`"Utility conflicts are the most common issues on anything design build and even regular planned projects. Existing utilities never seem to have elevations listed, only the proposed installations have elevations for reference." – Jesse Munoz III, PM, Alabbasi Construction

Environmental
Entitlements & Permitting

Planning

Last Planner System®

Milestone Pull Plan: Design, Construction, Commissioning
Phase Pull Plans (Design and early Construction) and Design Bi-Weekly Work Plans using Kanban
Takt & Scrum

Visualize: Build the Project in your Head

"From a designer's perspective we need "real" clear understanding/validation of the "constructability" of our approach. Phasing and/or construction sequencing limitations. I don't want to design in a vacuum but design in such a way to facilitate the contractor." – Trey Arnold, AIA, Regional Director or Healthcare, EwingCole

Identify flow, Sequence and Breakout Areas, Bottleneck Areas
Meeting Plan (minimizing) using Big Room
Onboarding Plan
IT Integration – BIM/FIM using Plannerly
Document Management (Single Source of Truth): Platform, Processes, Training
90-Day Mobilization and Project Start-Up Plan
Commissioning Planning with Commissioning Agent and End Users
"For every hour spent in PreCon you'll save at least 10 hours correcting the mistakes." – Corey Lee Wilson, Energy Systems Manager, MicroNOC, Inc.

Analysis

Site Analysis
Testing the High-Level Schedule (avoiding a crash landing)
Identify Risks and Constraints including Safety and Economic
Legal Issues
Bottleneck Analysis

Costing

Use Target Value Delivery coupled with Set Based Design (see above)
Continuous Estimating by Builder-Trades participation on Design Clusters and through Mobilization

Procurement

Materials and Equipment

Long Lead Items
Coordination of Owner-Furnished vs. Contractor-Furnished

Trades not part of PreCon
Supply Chain Analysis and coordination

Quality and Safety

Quality Plan tied to Staff Training and Document Management from the Start
Designed-In Quality and Safety
First Run Studies
Built-In Quality – Quality Assurance
Inspection Procedures and Punchlist
Safety Plan: Safety Throughout (Onsite and Offsite)

Human Factors – Mental and Emotional Health of every person
So there you have our current contribution to the ongoing, evolving discussion. We welcome your input. Continuous Learning for Continuous Improvement!