Hybrid Work can Learn Productivity from the Lockdown
No, it's NOT old news. It's studying the past to inform the present. Harvard Business Review compared a 2013 study of how office workers spend their time and repeated the survey in 2020 during the later stages of the lockdown.
"Here are the key findings:
Lockdown helped us focus on the
work that really matters. We are
spending 12% less time drawn
into large meetings and 9% more
time interacting with customers
and external partners.


Lockdown helped us take
responsibility for our own
schedules. We do 50% more
activities through personal
choice — because we see them
as important — and half as many
because someone else asked us to.


During lockdown, we viewed our
work as more worthwhile. We
rated the things we do as
valuable to our employer and to
ourselves. The number of tasks
rated as tiresome drops from
27% to 12%, and the number we
could readily offload to others
drops from 41% to 27%."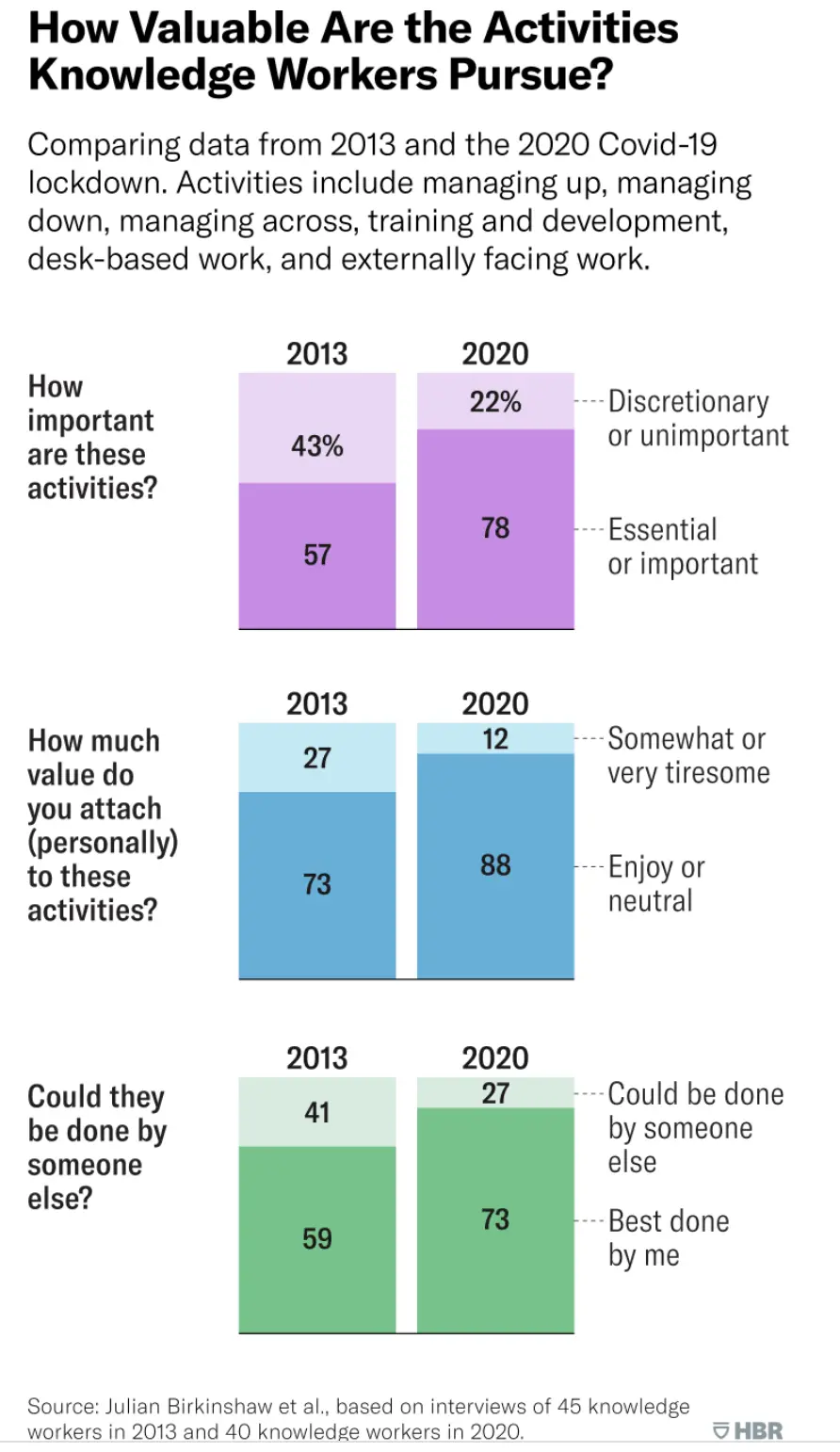 Not everyone in design, construction and owner organizations work "on site" in the field. We have an increasing number of knowledge workers in preconstruction, design, and construction management offices.
The Harvard study tells us to leverage our learning from 2020 to help individuals on our team be more productive and achieve greater work-life integration. Hybrid work – some days "in the office" and some working from home – appears to be how most of us are settling in. But the big determinate for success in hybrid work is giving the individual employee some autonomy: to choose which days to work from home and what work to do at a given moment. Of course we need all-staff or all-team pow-wow's at agreed-upon days and times, and of course we have deadlines to meet. But because autonomy is one the keys to the most powerful motivation – intrinsic motivation (Deci & Ryan) – and to wellness generally, then letting our folks choose how and when to do their work motivates them to produce more, stay with our companies and teams and find to life balance.
See the full report HERE.
In illustration of Hybrid work even for Site Superintendents, colleague Andrew McLaughlin, Superintendent with Turner Construction writes:
Working from home as a superintendent!?
Andrew: I believe that many superintendents don't think that this is possible. Superintendents, many times, are essential to the daily operation of a jobsite. They are involved in almost every onsite meeting. Often times they open and close the jobsite. They are responsible for keeping the team on schedule, safety, quality, and many other aspects of the site that are best-managed first-hand by laying eyes on them. Perception of this workflow makes working from home seem like a distant, if not impossible, opportunity. Why should a culture shift to working from home in construction have to exclude superintendents?
What do you think would have to change for you as a superintendent to be able to work from home?
Could you change your workflow to make computer and P6 work be on a work from home day? You don't have to be onsite for this, and it can be difficult to concentrate on it if interrupted onsite.
Could you implement a training program for an assistant superintendent to take over your site responsibilities when you are working from home?
Could you fund projects with adequate staffing so that you can flex when you are supposed to work from home?
If most of your meetings are calls, can you schedule them for a work from home day, so that you can be productive at home? Being onsite in person for a call with someone remote is not necessary.
Can you communicate your schedule in such an efficient manner that your team knows the plan and can execute the plan even when you are working from home?
I think we will see a shift in the nature of the role of a superintendent. They will become great communicators and process fanatics, so that things can run smoothly in their absence.
Let me clarify that owners are entitled to having the experienced superintendents it takes to complete the work. And I don't want to take away from the importance of having the right team. But I do feel that the team is more than just the super! And if it's not, we have more work to do!
What is your company doing about this culture shift?