$25k per Employee Wasted Annually on Meetings
In a 2022 study from the University of North Carolina, Charlotte, conducted by Dr. Steven G. Rogelberg, Professor of Organizational Science, Management for Otter.ia, focused on time spent in meetings, 632 employees in 20 different industries were surveyed. The findings are worse than we thought and the dollars wasted are shocking.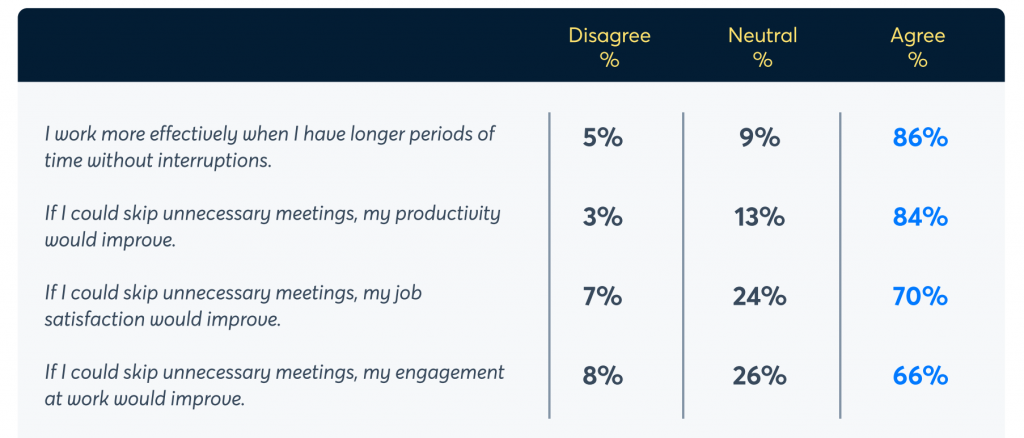 Quoting Dr. Rogelberg's Executive Summary:
On average, organizations invest an estimated $80,000, and could save an estimated $25,000 or more per employee per year by reducing "unnecessary" meeting, attendance.
Professionals spend over one-third of their working hours in meetings. Although they report wanting to decline 31% of meetings, they actually only decline 14%, likely due to following organization norms.
Despite the profound amount of time wasted in meetings, nearly 80% of employees report that their managers have not talked about declining meetings. Employees attending unnecessary meetings report feeling "annoyed" and "frustrated".
Reducing unnecessary meeting attendance would not only reduce strain on employees and increase productivity organizationally, it would also help companies drastically cut cost. For companies of 100 people, cutting unnecessary meetings, would save nearly $2. 5 million each year and for companies of 5000 that savings rises over $100 million.
The full study report is rich with graphics, simple charts and revealing word clouds of participant comments. Find it HERE.
Since the $25,000 per employee/year would be realized as additional capacity/time for creating value for the organization, the potential ROI is even more significant to both the top line and bottom line of the organization's P&L.
What are the strategies offered to reduce unnecessary meeting attendance?
Shift the organization's culture by disrupting meeting norms. This can be done through: "encouraging open conversations between employees and managers, providing formal policies, guidance or permission, and encouraging leaders to model the way.
Distribute high quality meeting notes in a timely manner. "Employees would prefer a summary of key decisions, dates, and action items, over a transcript or recording of the full meeting. 77% of employees believe meeting notes should be shared no later than one day after the meeting."
Invite people to only those parts of the meetings that are relevant to them. "To successfully implement the strategy, meeting organizers need to establish [and send well in advance] a clear agenda to ensure attendees can evaluate whether their presence is needed."
The goal of every lean team is to increase value by reducing waste and increasing flow. Both this goal, and our focus on Respect for People, demand that we streamline our meetings by:
Reducing unnecessary meeting attendance – you can do this all by yourself, till the organization adopts these strategies
Learning better facilitation skills so meetings are shorter and more productive.
Let's do this. Start today.